Learn how to combine your autumn-winter 2022 looks with the right shoes.
In September's blog we introduced you to the new footwear trends for the autumn-winter 2022 season. And, now that you already know the shoes that are going to be in fashion this season, we want to help you to combine your looks with the right shoes that are going to be in trend this autumn-winter 2022.
Trends autumn-winter 2022
The trends of the spring-summer 2022 season have not had enough. Therefore, we are going to find some of these trends in the autumn-winter season.
We will be able to find from stunning looks to practical and simple looks. Very bright and flashy colours to more classic and discreet colours. For this reason, the difficulty of successfully combining our looks increases with this set of trends.
Therefore, in Gabarain Footwear we want to give you a small guide so that you know how to combine all kinds of looks with the right type of footwear.
Dominatrix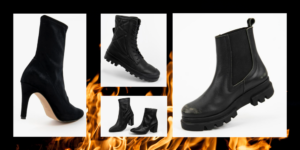 After the summer of love comes the autumn of dominant love. Black total looks with straps, laces, leather, corsets, etc. arrive. This trend marks a great character, so we must combine all the details correctly.
For this trend we recommend combining high boots, platform heels, military boots and leather boots. Of course, all of them must be black to complete the total black look.
The 60's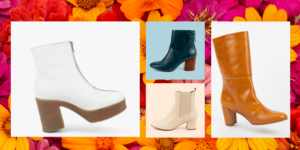 The nostalgia for the past returns this season with a focus on the 60's. The daring girls are back, full of revolution and curiosity. All this can be found in the dresses and miniskirts with prints and shapes totally from that period.
If you dare with this look you have to know the shoes with which you can break the dance floor. Heels, shoes, boots or ankle boots. On this occasion you will have a world of possibilities where you can combine colours, prints and fabrics completely to your liking.
Pink colour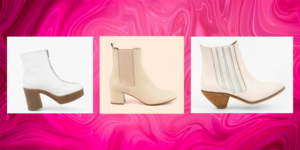 Is there such a thing as a timeless colour? Yes, and pink is becoming one of them. This tone is back in fashion this autumn-winter in all its ranges. Although this colour is very vivid and very appealing to wear, it is very delicate to combine. Therefore, you will have to complete your look with garments and accessories in white, black, grey, green, orange, yellow, blue, red, earth tones or triumph with a total pink look.
Don't take any risks! If you want to combine your pink looks correctly, wear shoes, boots, heels or ankle boots with the colours we have mentioned above.
Preppy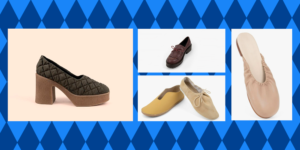 The "school girl" style is back with board skirts, diamond prints, padded garments, berets, ties, etc. The catwalks are sweeping the catwalks with this style and it can be seen in any detail that takes us back to the school playground.
In this type of looks you will have a lot of combination margin, as it can be worn with trainers, moccasins, shoes, boots or ballerinas. Be original and bring out the little girl in you!
High boots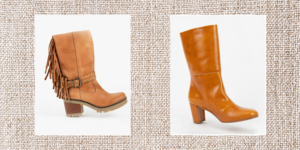 Are tall boots the absolute shoe of the season? Yes, they are. The most winter footwear is once again present in most looks. Now you can combine these boots with dresses, mini skirts, shorts, coats, overshirts, etc.
Follow us on Instagram and tag us in your autumn-winter 2022-23 looks!